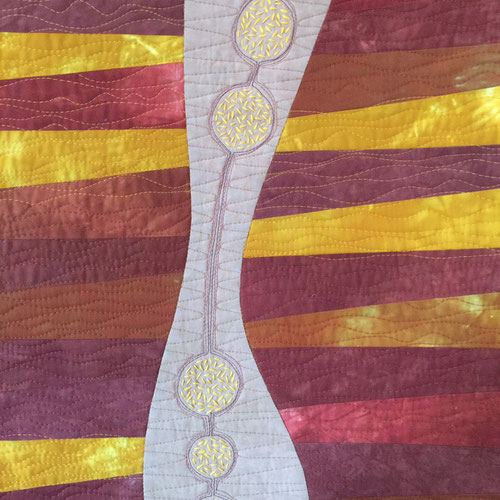 Art and craft - if we could draw a Venn diagram, would one be contained within the other, or would they be entirely different spheres?  This is hardly a new debate, but one that is particularly relevant to the textile arts.  You see, "Art" has a history, a cultural standing, a legitimacy and a currency that has been carefully curated and built in the Western World, and it has been primarily about white men, only occasionally including women and people of color.  Art or Fine Art has painting at the top of the hierarchy, also accepting sculpture and drawing. "Craft" includes sewing, spinning, knitting, pottery, weaving, basketry, wood-working,  which are techniques used by professional artisans (men) and homemakers and hobbyists (women).  I'm sure you are scoffing right now at these artificial delineations, but think about how hundreds of years of thinking (what is included in museums and taught in school) impact our implicit reactions to what we see and value.  
The question is whether a vase, a quilt, a tapestry, a woodcarving, made by a talented and experienced craftsperson - that utilizes all of the history of that medium and expresses that artist's  viewpoint - can this be art? Is this a relevant question? Can we appreciate art and craft, the expression of this in their highest forms, for what they are?  Maybe we can, but are art and craft equally valued in culture and society?  This question may be particularly for Western culture.  In Japan, experienced craftspeople are elevated to the position of "National Treasure," for continuing traditions of hundreds if not thousands of years, and passing these traditions to apprentices.  The answer is less clear in the U.S.
Textile Arts have been elevated to Art, brought into the gallery and museum settings, but does this change how we individually perceive textiles and those who make them? Angela Moll states that she wants  "Craft to engage with modern art in a way that can bring inclusion in the critical discourse and establish a parity of sorts within the cultural hierarchy. I do not want to be part of Art's story. I want to be part of Craft's challenge to Art's story. I'd like to harness the subversive potential implicit in those neglected practices and create multiple stories, all equally valid and legitimate."
If you've been to my kitchen you've seen my series of "Wicked Pie & Heavenly Coffee" art quilts on the wall. Each of the four pieces is 12x18" in the form of the household textile - placemats.   I created this work in response to the tension that I have felt between art and craft.  I see this work as a conversation piece.  These art quilts are in the form of a utilitarian household textile, but the work that went into them and that they are hanging on the wall, confuse their meaning and function. I think that textiles fall along a continuum of art and craft, for example, a designed wall quilt and a traditionally patterned bed quilt.  Both utilize a common media or form, can be equally technically of the highest skill level, but the level of artistry, the use of color and design, perhaps the artist's message, blurs the boundaries of whether one is art or craft. This just isn't clear-cut issue.  We see a recognizable "household" form such as a placemat or a bed covering, and we have a response- domestic, women's work, not art.  But what if we weren't trained to see this work in this light? 
Craftivism and the Maker movement offer up a new narrative to our technological, consumeristic mass-produced world, by offering exquisite, slowly hand-produced goods.   I see these new movements as re-inserting the value into handmade goods.  Along with the movement of Minimalism, the Maker movement values fewer, slowly handcrafted items with the distinct mark of the artist, over the abundance of impersonal mass-produced goods.  Textiles are having a come-back. I believe that our deeply rooted connection to the warmth and security of early humans who produced the first clothing and bedding, as well as our personal connection to our own infancy - the swaddling and care in our early lives - binds us all to textiles in a subconscious way.  Textiles are an intertwined with being human and our reaction to textiles is visceral and aesthetic.  So where do textiles belong in a world that divides art and craft?
Links:
"The artificial divide between fine art and textiles is a gendered issue," by Amber Bouchart, 2018, Frieze on-line magazine.
A new academic work by Julia Bryan-Wilson, 2017, University of Chicago Press, "Fray: Art and Textile Politics"
Judy Chicago was a groundbreaking artist in the 1970s who took ceramics and textile arts into the museum world with "The Dinner Party."
One of my favorite art quilters, Nancy Crow hangs in the Smithsonian in D.C. and the Museum of American Folk Art and the Museum of Art and Design in NYC.
Quilt National is the major art quilt, juried, international show held in odd-numbered years since 1979, that tours the world, pushing the boundaries of art within the quilting medium.