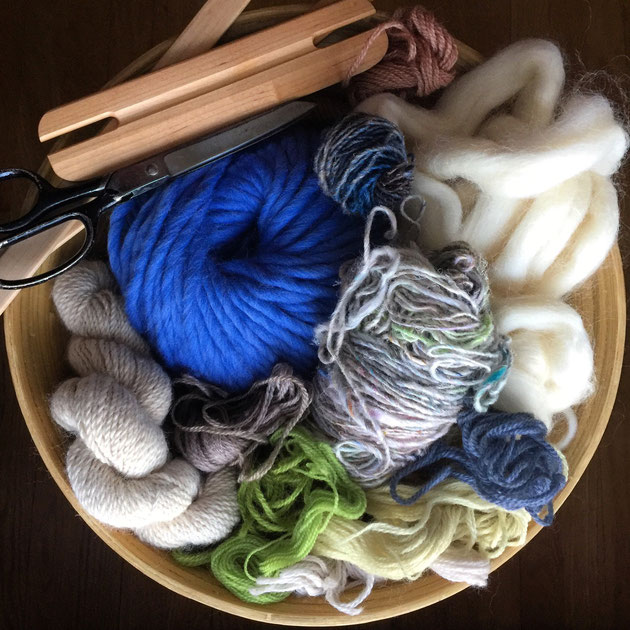 Winter is a time of play for me as a fiber artist.  The holiday markets and family festivities are over, and there are months of time that lay open to my imagination and new endeavors.
My Schacht tapestry loom (made right here in Boulder, CO) serves to capture the color, texture and design that emerge from my collection of wool, cotton, & silk yarns.  To begin, I pull from my collection of fibers, the colors and textures that fit with my vision or mood.  It is usually the materials that are speaking to me, often beginning with one fiber and then gathering more that fit with that first intriguing yarn.  In the bowl pictured to the right, the variegated yarn with its neutral base and flecks of blues and greens, made me yearn for spring especially as a winter storm warning approached outdoors.  Textural contrasts are really important to me, so I grabbed the blue super bulky wool for the bottom fringe (tapestry weaving happens from the bottom up!) and then added more texture with the rya loops woven with wools of different weights.  I love that I don't always know what will come next and that each new row of weaving is a new decision. (Some tapestry weavers use a paper cartoon behind the loom to guide the design, but I prefer a free-form, intuitive approach.)  Seeing the color and feeling unfold is the most exciting part of weaving for me.
I began years ago quilting traditional patterns and then my own free-form contemporary designs.  Along the way, I've been felting, crocheting, dyeing, and a bit of weaving .  But, what pulls all of these techniques together is the way that the gorgeous organic materials of cotton and wool, inspire new creations. The materials and techniques are just mediums for the hands to build with, to create. Fiber is a truly endless source of joy and inspiration.