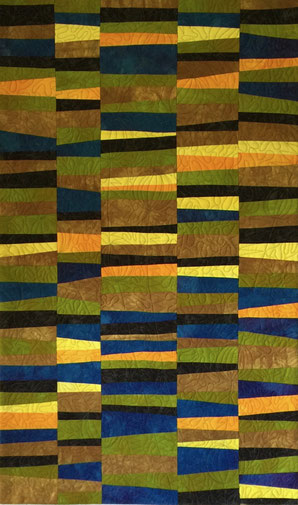 When your son asks if you would create a piece of artwork to hang on the wall of his first apartment....you say "Yes!" 
When Josh was home for the holidays, he picked out colors from my hand-dyed cotton stash. That pile of fabric sat on my shelf for quite a few months....and then summer rolled around and his 23rd birthday, so I knew I needed to get started.
The process I use for piecing, is to cut uneven strips of fabric from each of the colors and begin by randomly piecing pairs of strips together. Small piecings start to go up on the design wall and then the editing begins. Standing back across the room to get perspective and then adding and subtracting colors brings the quilt top together. Then the top is sandwiched with 100% cotton batting and a backing.
Deciding on a free-motion quilting pattern for each quilt takes a lot of staring at the pieced top and intuiting a flow and pattern. Josh lived in a dorm for four years as an undergrad and now having his first studio apartment in grad school and moving to Chicago are huge transitions. My inspiration for the quilting were thoughts of "fertile soil," "growth" and "rivers of thought."
This quilt is bold because the colors Josh choose are complementary - but he is bold and I think it fits him very well!